CEREMONY AT MILFORD HAVEN WEST WALES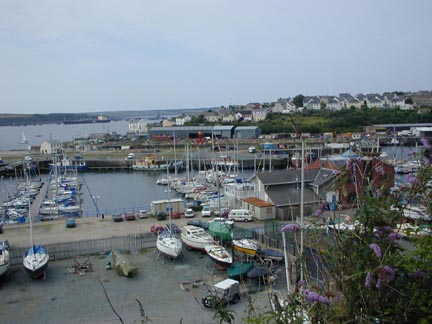 On Friday July 19th 2002 a Ceremony was held at Milford Haven to remember the crew of 27 O.T.U Wellington 1c N2749 that crashed into the fish dock at 03.08am on this day 60 years ago. The aircraft had taken off from Lichfield the previous night on a 6 hour X-Country and Navigational Training exercise - the probable route was to be Lichfield - Rhyl - Isle of Man - Anglesey - Fishguard - Llangollen - Cannock Chase Bombing Range - Lichfield.
The Crew
404856 Sgt K.H.C. Steinbach RAAF Pilot
408131 Sgt W.H. Condon RAAF Navigator
411206 Sgt G. Warburton RAAF Navigator
411445 Sgt E.D.R. Jennings RAAF Navigator
411117 Sgt K.J. Bradley RAAF Wireless Operator/Air Gunner
1170027 Sgt M.Cooke RAFVR Air Gunner
There were no survivors - the five Australians are buried at Pembroke Dock Military Cemetery whilst Sgt Cooke rests at New Bradwell near Bletchley.